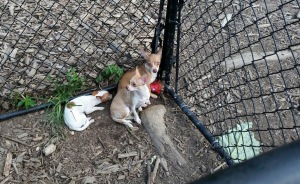 It was 96 degrees today in New York City, and yet, someone abandoned three little Chihuahuas in my neighborhood park, Fort Tryon.
The dogs were found without collars in the dog run's holding pen, with a bowl of water and a note saying to call animal rescue. They were scared, huddling, and hot, as there was no shade. One of them was very young.
Let's hear it for those people who make up for the bad behavior of the "someone else will take them" people, and actually make sure these dogs got to a rescue before it got dark. Kevin Klepper is one of them.

Thank you, Kevin.