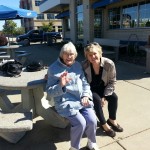 There has to be something funny about dementia, and here it is: first thing when I arrived at my mom's facility last weekend, my mother tried to sell me her french fries.
"How much?" she asked me, displaying a cupped hand containing four crinkle-cut fries.  I pulled out a dollar. She glanced at it.
"That's not enough," she said.