NOVA SCOTIA, Canada—Up here, one indigenous dog is the pride of the Island. It is the Nova Scotia Duck Tolling Retriever, but locals just call it "Little River" or Toller.
In fact, all of Canada seems enamored. Little River has been on the cover of DOGS magazine, on a coin, and has even been on a Canada Post stamp.
This week I visited Little River Kennels breeder, Jim Jeffery,left, in Yarmouth to meet his new pups and talk dog breeding. In recent years, the breed has moved to other countries and its genetic diversity in the founding population has been slowly eroding due to what Jeffrey calls "back door" dogs.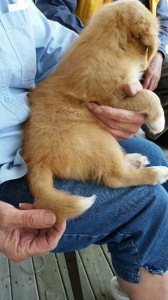 Jeffery has been keeping the breed pure since 1969, and nowadays his pups sell all over North America before they are even born. Mama dog Glory's seven pups played in a pen on his porch, and his wife Deanna pointed out the breed's signature markings. The tail must have a white tip (right photo) and the foot fur should be white. The Jefferys breed a pink nose, not dark, because that is mark of the traditional Toller. The coat color must be right—not too light on the top of the head. And face can also be marked. Pups go for minimum $1085 CAD and up, depending on the "guarantees" involved—for example, is the dog "pet" quality, or "show" quality?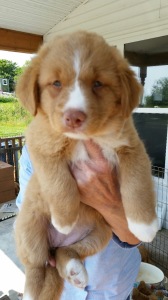 But in Nova Scotia, they're work dogs. To ducks, the red-coated Little Rivers look like foxes. From a distance ducks see a "fox" tolling back and forth at the shoreline and think it is there to harm their young. As they circle in groups above it, quacking madly to shoo it off, the hunters shoot the ducks down. The Toller, which has a water-repellent coat and slightly webbed paws, fetches the downed ducks from the icy waters.
But even though it's bred to hunt, "we've always thought of the Toller as probably the most versatile dog on the planet," said Jeffery; Little Rivers also make good sheepdogs and pretty good agility dogs. And, they are not high-strung breed.
"They don't have separation anxiety," said Deanna. "But whenever I sell a pup, I do!" As the one who helps birth and feed the pups, Deanna said her human-dog-bond runs deep. When she dropped off one pup she had grown particularly close to, she found she could barely let it go, and she couldn't stop the tears when she said "goodbye" to the pup at the airport.
"So a man nearby told me to change what I say, and to part with 'see you later.' So now I do that, and it's easier. I don't think 'goodbye' anymore."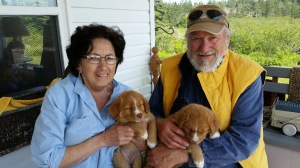 Jeffery's Littleriver Breedline is the oldest extant breedline of Nova Scotia Duck Tolling Retrievers in the world. It's no wonder that, since 1995, Little River has been the Provincial Dog of Nova Scotia.