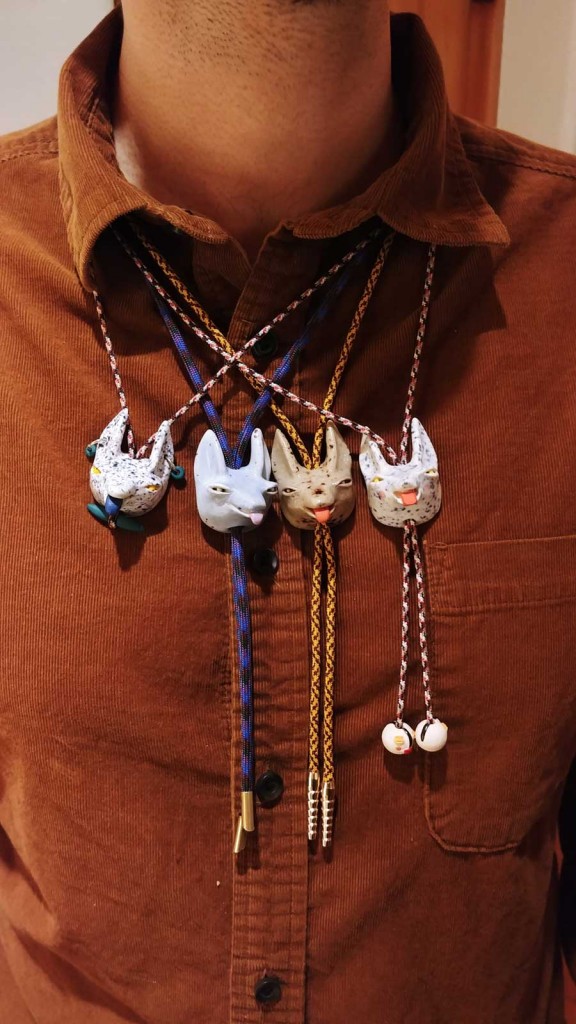 As a girl, Vera Cruz native Daniela Rivera (daniela.riverodriguez@gmail.com) was inspired by her dad –an architect and carpenter- to work with her hands, and her interest developed in pottery and clay figures.
She makes many types of pottery – cups, pitchers, etc.– but her bolo ties really caught my eye. The centerpiece (where in Native American culture you'd usually see some intricate silver and turquoise design intersecting a leather cord) is the head of a dog.
Influenced by her husband Hector Beltran ("He likes bolo ties.") and the fact that she loves dogs (and has two), she studied ancient Mexican pottery and saw how frequently animals were used in all types of earthenware in previous indigenous cultures. So, she's made an attempt to "mix the old and the new" through her work.
Fancifully eccentric, brilliantly cross-cultural, my Bolo de los Perros (the one on the far right) is so cool I can't wait to show it off on my local "A" Train.
BTW, for dog lovers, her dog urns are cool too.