The Move.
[caption id="attachment_230" align="alignleft" width="225"]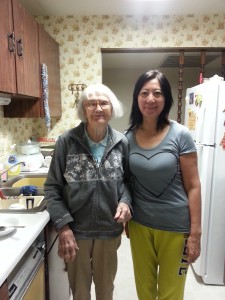 Mom and caregiver Annie, last photo at home. Jan. 6.[/caption]
Journaling lost its appeal for the duration of mom's move to 'assisted living' with dementia care. On Jan. 7, in what can only be characterized as bald deceit, a male nurse from the Residence picked up mom and me to take us out to 'eat'.  Sitting in the leather seats of his car, surrounded by its masculine scent and jarred by his heavy-footed accelerations at stoplights, mom began to suspect something was amiss. By the time we were 4/5 of the way there, she was crying for us to 'take me home,' 'turn around now.' She was calling my name for reassurance, and I tried ('we're just going for lunch') but deep inside she knew something was wrong and she sobbed as we pulled up at the Residence.
To our frail elders and our babes we are lifelines to care, comfort, security and love. We raise our babes to thrive in a world of expanding possibilities. We wrest our frail elders from their homes—their photos, their favorite quilts, their bathroom sanctuaries—and stick them somewhere. Like we do a fading flashlight, a precious hankie, a used-up compact in a case too pretty to toss.
We entered, we ate, and I left while she was distracted. Now mom has to make a new home for herself.