"Where's Joan?"
Mom's Residence is a locked home, but, given some 25 odd resident rooms and handful of lounges and dining rooms, it's not surprising that someone with dementia can "disappear." Rather than bother the shorthanded staff, I glance into resident rooms and check public spaces before reporting her MIA.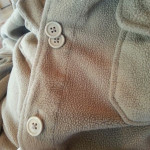 An aide finds her inside Eleanor's closet. God knows what she was interested in, in there, but, to her, I gather it presents a treasure of take-me opportunities.
The Residence is a laid-back facility. Unlike a nursing home, residents are free to go where they want within the building. There are television lounges, panoramic porches, dining rooms, a large gathering lounge, and a fireplace room.  But mom prefers to wander into people's private spaces filled with all that personal stuff she can appropriate and wrap up in a towel. The towel is her constant companion. One of the other residents says it makes her feel secure. She has also begun to twice-button her shirts, forcing the shirt buttons into the wrong holes. Buttons. Zippers. Pockets. Towels. Napkins. Silverware. They are her world, the simple things she can still control, the things within reach of her hands every day.
Since they began the new drug regimen, she sleeps right after she is surreptitiously administered the drug in a cup of tea (she won't take pills). She has fallen three times in the last six weeks, but not with serious consequences, because her amazing sense of balance has thus far prevented a disaster. She still walks so well that—in my opinion–the drug regimen is more to curb her agility than her "behaviors." But her "behaviors" are sometimes outrageous. Yesterday she attempted to pull apart a Christmas centerpiece filled with ribbons and glass ornaments; I couldn't control her. When she pulled off a glass ornament, I took away the centerpiece and called for help to get the ornament out of her hands. Bitch. I hate you. You Bitch. Bitch!
She continues to lose her grip on language. This is upsetting.  I look for a pattern and make up silly theses about what is happening inside her brain. I give her a red jacket and she calls it green.  I tell her we need to put on her shoe and she says let's get it off.  My theory of opposites might hold water, but there is no way of knowing without writing down each and every thing. I try this for about an hour.
You like the banana? It's a small one.
Do you remember London? Might be.
She rubs her pants looking for pockets that aren't there, and says, I've got to get inside.
Are you having a dream? I'm alright.
Do you know how old you are? Do you mean somebody will empty?
When she sees someone shut a door, she says, she just shammed it in.
When she needs the bathroom, she says, I've got to go where I can put it.
She watches me type. That was in your hand.
Do you have dreams? Could be.
What's your name? (She closes her eyes.)