Day One, July 6: Chuckles, Christ, and Chocolate Milk
Americans eat a whole lot of sugar and pray to Jesus. After five hours, a lunch at Cracker Barrel and driving 300 highway miles, that's a firm conclusion. And the best way to pass a semi is to wait 'til the car in front of you has cleared it, and then accelerate to 80. And the coolest thing about the Holiday Inn-Uniontown, Pa. is finally getting here, and this: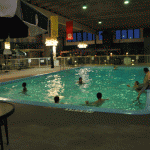 Brendan Gill writes that Frank Lloyd Wright was "playful" with concrete. Can't wait to walk through the house he built (for Edgar J. Kaufmann) over a waterfall.
Prologue, July 5: Drove west toward Pennsylvania into a setting sun, glad to leave a bloc of workdays behind. Took photos of a pink and teal sunset but realized, once we got to the hotel in Easton, that I left my download connect at home (shit!).
Am on page 395 of the Frank Lloyd Wright bio. From what I've read he was not a likeable man, but I can't wait to see his creations, each distinct piece of art-chitecture.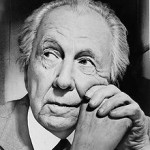 Hah! Easton, Pa., has a town square with an Alabaster Phallus.
Tomorrow we drive to Falling Water.