(I worked on this post with my daughter Myrrhine, who drove from Phoenix, to Albuquerque, to Denver, to Toronto, and to New York with her two dogs in the back seat.)
If you are really into your dogs and also like to see America, then the road-trip-with-dogs is a great option. This is a how to travel with a dog, or, in our case, dogs:
Before you leave home, make sure you take any medical records—proof of vaccination, just in case you need it along the way. Make sure that there is identification (phone number, etc.) on the dog's collar. Take the dog's favorite food and treats, and a few favorite things; like children, they need to be entertained, and to feel the familiar around them. Before you start, Do Not give your dogs any food for at least 2 hours before you drive. Dogs can get motion sickness; if they are going to throw up, make sure it is as little as possible. Vomit in the car is not pleasant, and if you are between exits, you can't do much about it until you stop.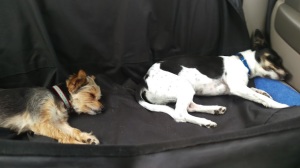 One essential purchase is a dog hammock. It is a long, flat nylon sheet that snaps on to the headrests of the front seat and fans out over the back seat for them to sit (or sleep) in. It keeps the car seat clean and prevents the dog(s) from jumping up to the front. Throw a toy back there (but not a squeak toy, it will drive you nuts). I used a moose antler for my two dogs to chew on and it kept them entertained from the whole trip.
Medication does help dogs travel better. Take Pill Pockets, which are dog treats that you put a pill inside. If the dog is prone to motion sickness, give it a half of a human Dramamine. For long (all-day) rides, give your dog a half a kid's Benedryl. Being enclosed in a car is hard for them.

Keep a bottle of water and bowl, napkins, and doo-doo bags at hand. Keep the leashes handy, and take an extra because if you can't easily find it, it can hold you up. Stop every 4 hours even if you don't have to because they need to relieve themselves and they need to drink water. But do not feed them during the drive. Also, don't ever leave your dog(s) in the car for more than a quick pit stop. If you are driving alone, you'll have to do this sometime — just leave the window cracked and do your business quick!
There are only a few hotels chains that don't charge for pets, and that includes Red Roof Inns, Drury Inns, LaQuinta Inns, and Motel 6s. Some allow pets but charge. My preferred hotels are the Motel 6s. These hotels are cheap, and pets stay for free. Get a ground floor room because it is easier to walk the dogs. Luckily, my dogs behave in the room when I run out to get a bite to eat, but these hotels also have lots of take-out menus. Always book your hotel the morning before you arrive. That way you won't be stuck searching when you are tired, hungry, and done-in for the day.
If you know exactly where you are going, visit gopetfriendly for tips on finding restaurants, hotels, beaches, dog parks, and other pet-friendly locations to help you on your route.
And don't try and rush or cut corners. Taking pets is more complicated than leaving them at home, but if they are part of your clan, then it's worth making the sacrifice.