In 1997, we wanted a dog, one that would live well in a city-size accommodation, and in a single child family.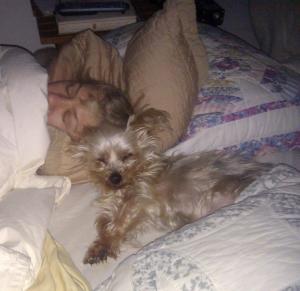 Sleeping Beauties: Janet and Jackie
My daughter had thought she wanted a cat, but when we met a cat-size Yorkie in the neighborhood walking with her doggie mother—the one puppy from the litter that nobody wanted to buy—we fell in love.
Jackie was her name, and she was nearing six months old. The man walking them wasn't a professional breeder, but he knew that little Yorkies were more in demand. Jackie was too darn big for the little dog people, so we covered the cost of her medical shots and took her home.
Soon, we had nicknamed her "Jackie-B-Wacky." She would get kind of crazy sometimes and she jumped really high for her size, even as she got older. My daughter loved her so much that she even wrote a song for her:
Jackie, why you so Wacky?
You jump as high as a tree with your tiny feet,
You lick the air with no care, your tongue is everywhere.
You let me hold you at night and when I get too tight,
I won't go on about how much we loved our pet (keeping this blog short) but we still laugh at the time she ate 10 of my 18 bake sale cupcakes, and the time she stuck her nose close to the rear end of a German Shepherd and it dumped right on her head.
She developed cancer 3 years ago and we put her down at the Bideawee vet's office in her little doggie bed, stroking her head as she passed.
We scattered her ashes around the neighborhood parks and trees, on her favorite places to pee.