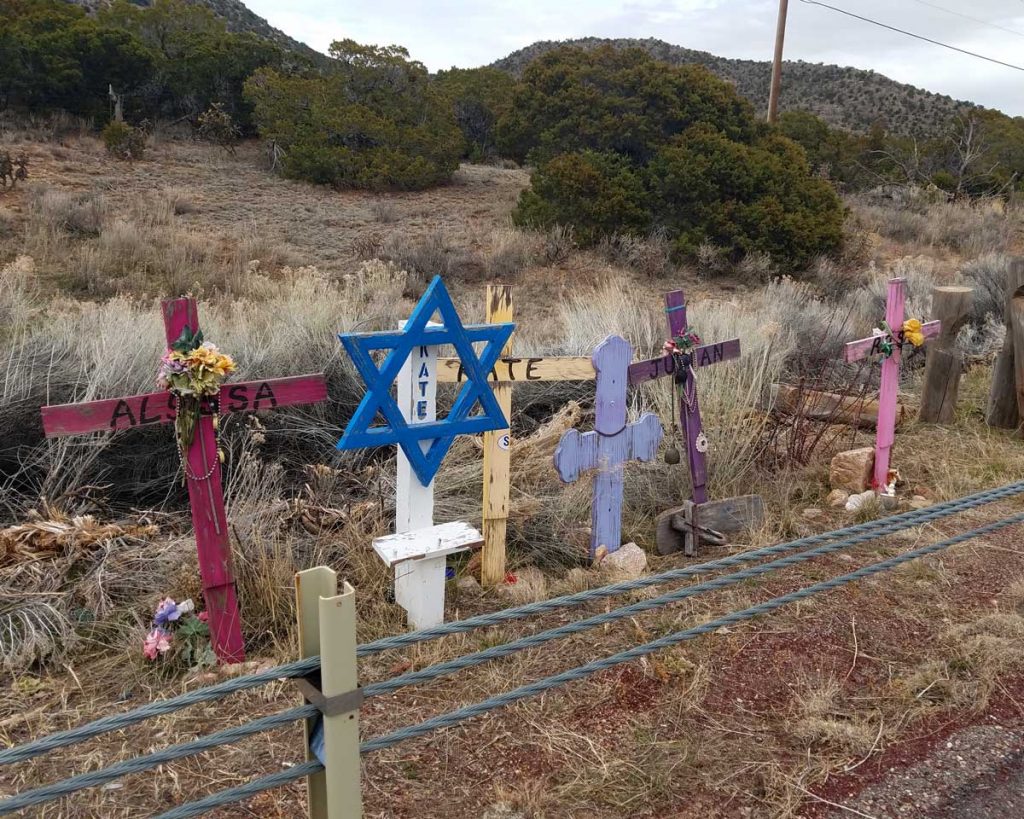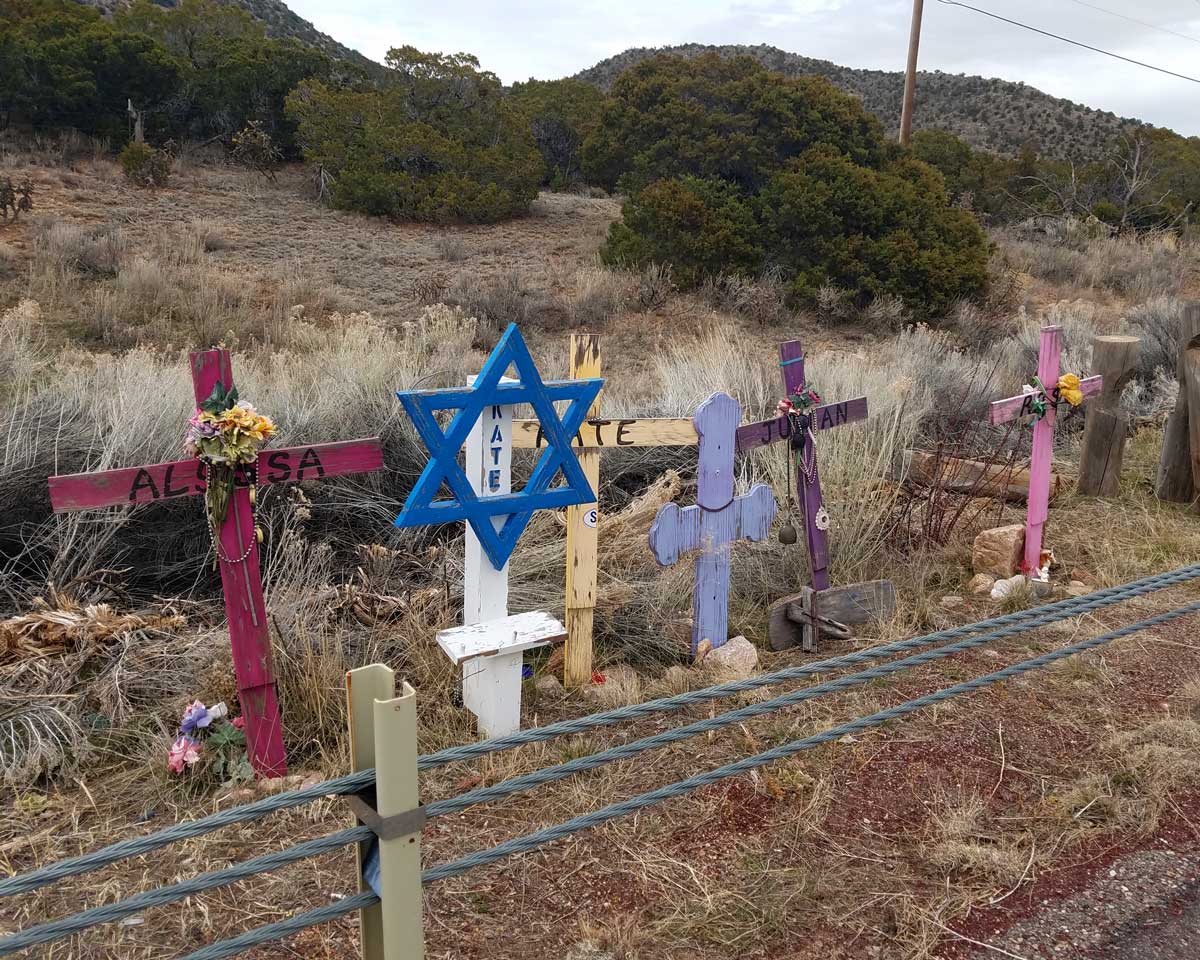 I used a simple bottle of water and paper towels. I cleaned only a picture, a name, a date, leaving the collage of precious objects to the hold the dust of years of grief and passing traffic. The cleaning calmed me, gave me purpose, brought to mind rebirth. Easter. Cleansing of souls. Rising from a place of loss and remorse for certain acts we inflict upon one another (whether on purpose or by accident) to a place of forgiveness and hope. Easter is coming Can we rise?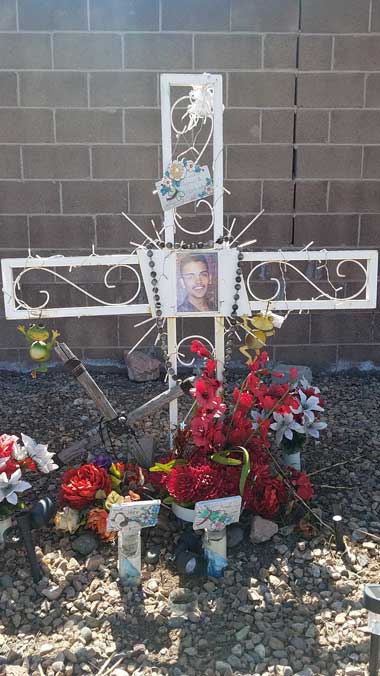 I know he was too young to die. I guess he was Catholic and Hispanic. He may have liked to smoke cigarillos. I don't know his name, only know his family tends to this roadside memorial with colorful plastic flowers and solar lights, and a small card that reads "Sunshine, laughter, and friends are always welcome."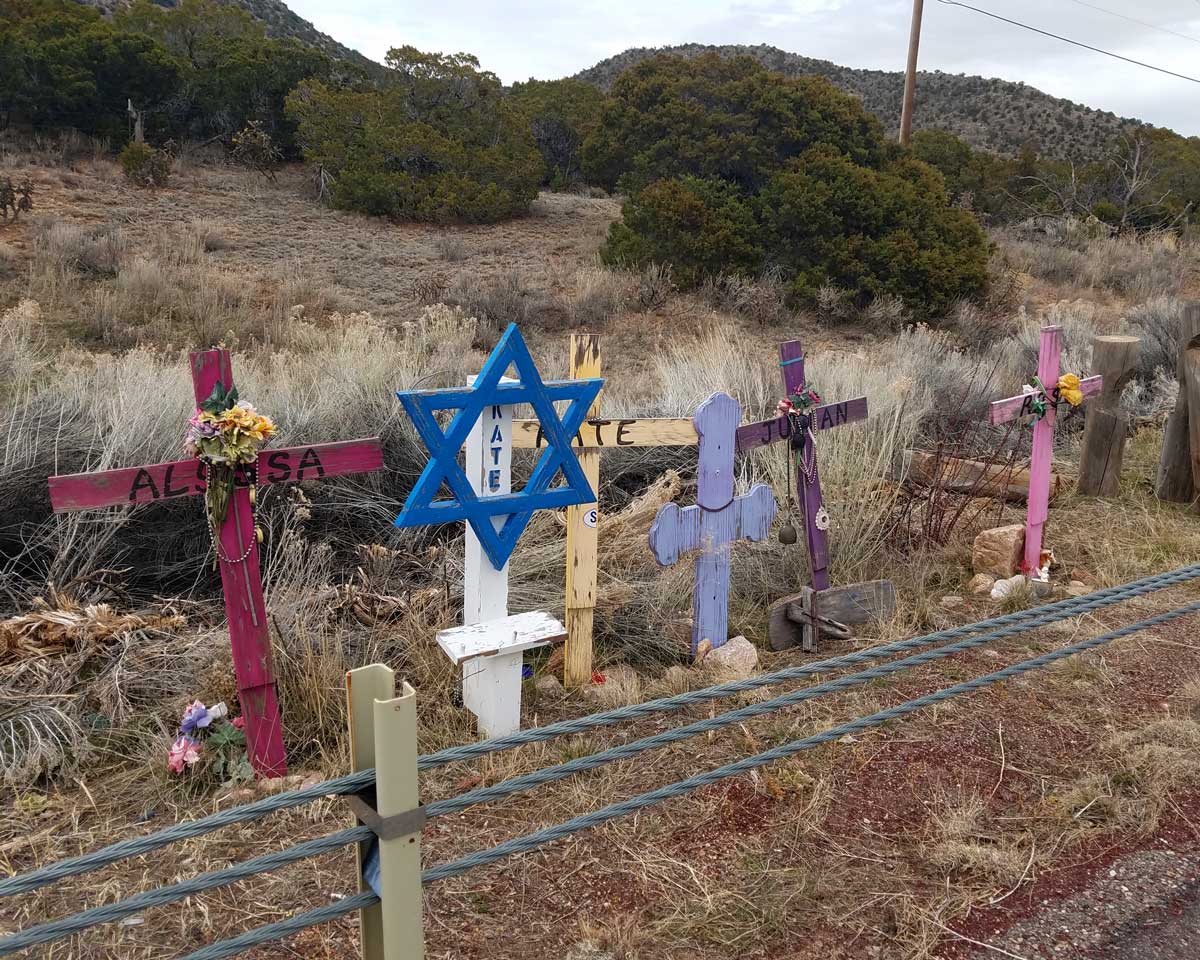 I know that high school friends Rose Simmons, Kate Klein, Alyssa Trouw and Julian Martinez died in a car accident together in 2009 on Old Las Vegas Highway. I know that one victim, Kate, was Jewish and an only child. I know that she and her friend Alyssa both performed community service work. I know that the driver of the jeep that killed them was drunk and driving in the wrong lane. He lived.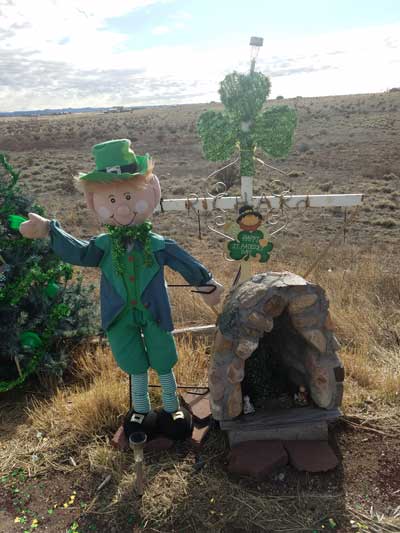 The shrine, which has been here at least 5 years, says his name was Richard. I can guess that his family has a sense of fun and celebration;. this photo was taken 3 days past St. Patrick's day.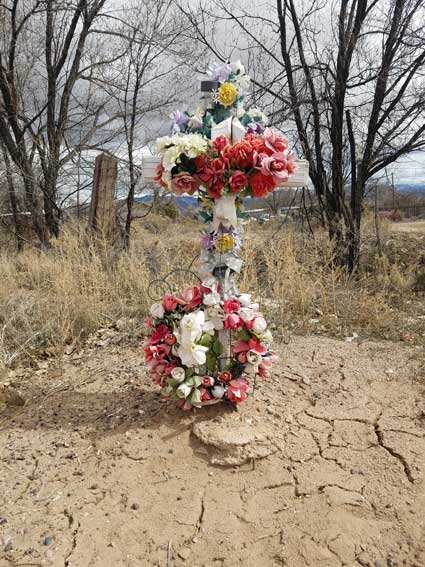 I don't know definitively, but I guess a woman decorated this. A mother, perhaps, or a daughter. The intertwined red and white roses at the bottom, red and white carnations dotted with butterflies and star-sparkled ribbons at the top, and the solar light placed as if lighting an angel on a tree seem like feminine affections. There is no name on the shrine.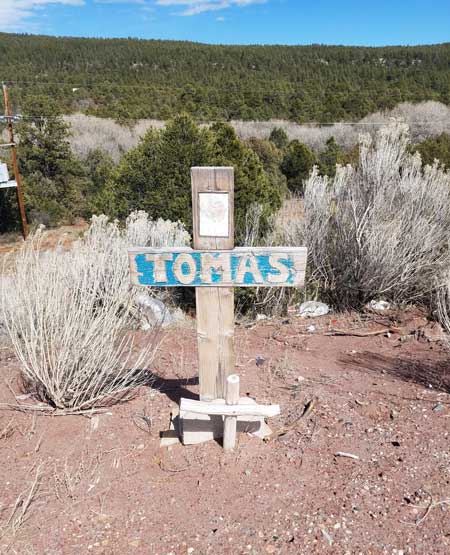 I know that his name was Tomas and someone loved him. I like to think his marker was made by a friend, maybe someone from nearby Glorietta.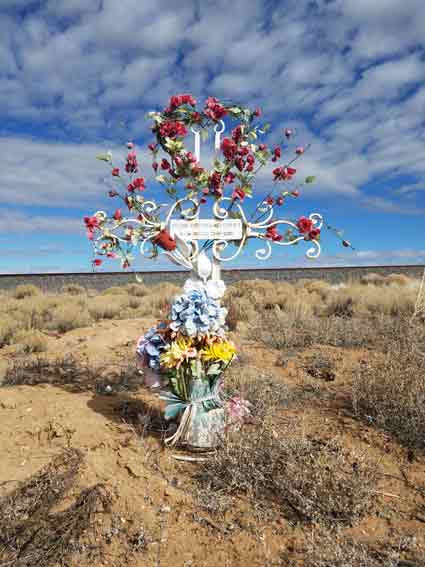 I know Kylene Ruth Offutt had three siblings, Ashley, Autumn, and Justin, and died in her Nissan Altima going nearly 100 miles per hour on the wrong side of the I-25. It was 8 days before her 27th birthday. A news article said she was a tattoo artist from El Paso who was in New Mexico to visit her grandparents. She hit an ambulance head on; both people in the ambulance survived.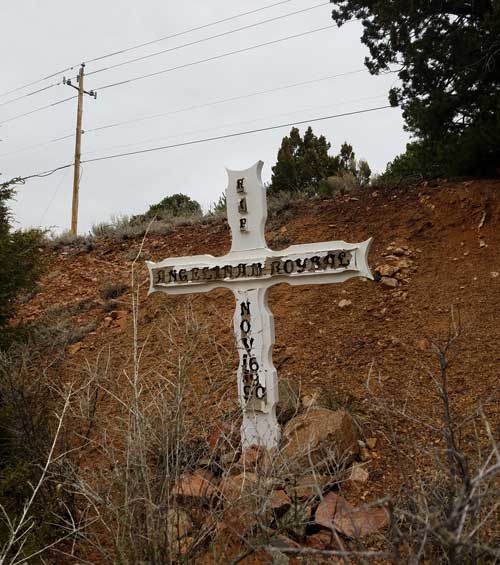 A weatherworn Descanso dating back to 1990, marking the life of 15-year-old Angelina Maria Roybal. I know the epitaph on her grave, which is at the Santa Fe Memorial Gardens, reads "Safe in the arms of Jesus."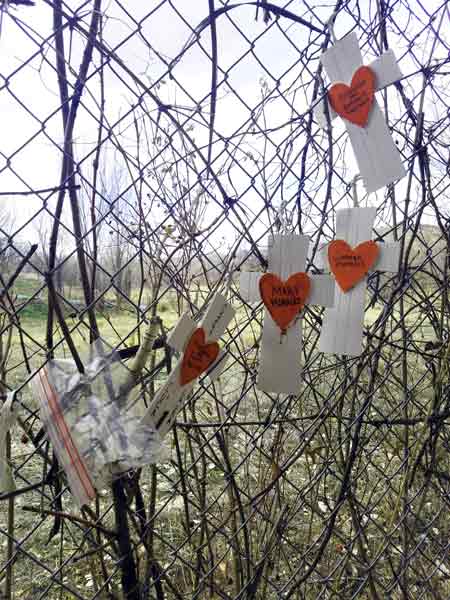 Wooden crosses for the Morales family located at the Chimayó Sanctuary in the village of Chimayó, Rio Arriba.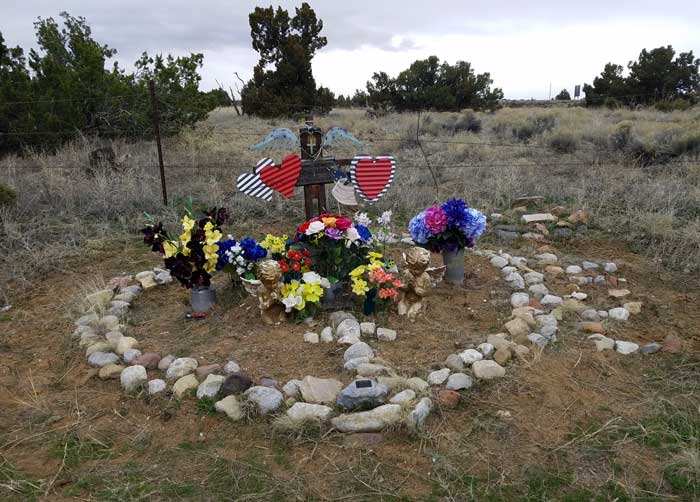 Luis D. Lugo, nicknamed "The DG," age 50 at his death. His large Descanso is visible at the corner of Calle Pava and Old Las Vegas highway, a few miles out of Santa Fe. I know he was someone's Dad.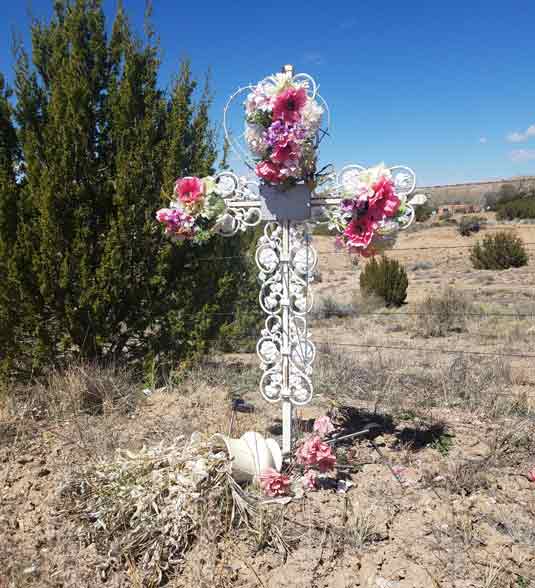 A vase of flowers lying sideways below the cross. A plaque reading Matilda "Mattie" Victoria Gallegos. October 1986 to June 2001.