FrankLloydWrightRoadTripDay5_July 10
The house where it all began has diamond pane windows. At the time Wright built it for his wife and future children (around 1889), it overlooked prairie, but today it exists among a solid urban grid of houses and apartments, with a CHA 'el' stop just a few blocks away.
If you walk around Oak Park, Chicago, you see Wright's architectural progeny—he designed and renovated so many houses here that his fame far eclipses Oak Park's other famous native son, Ernest Hemingway.
Snuck away from the walking tour to see his mistress' house, small, surreptitious, lovely.
Wright and his first wife had six children; one of them lived to be 101, and one of them was the inventor/creator of Lincoln Logs, which I remember playing with when I was little.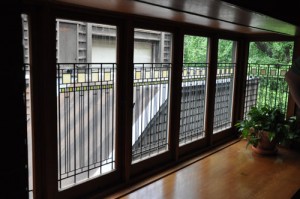 Children's Playroom Windows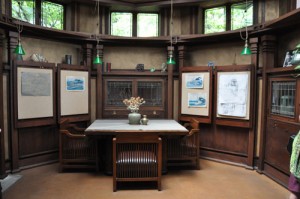 Wright's Hexagonal Conference Room for Clients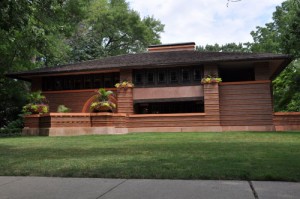 Neighboring Heurtley House – clean, crisp Wright, 1902
WHY I STILL LOVE CHICAGO